Skid steers are also referred to as compact track loaders, bobcats, or compact wheel loaders. They're small, metallic-structured, versatile equipment that can perform many tasks at work and on the farm.
This article explains everything you need to know about skid steers and their uses. Read on to find out the direction to take when buying or hiring compact equipment.
What is a Skid Steer?
A skid steer is a small and versatile equipment with tons of benefits to farmers of all types and homeowners. It's a common tool used by gardeners, on construction sites, and other operations around the homestead. It's relatively light and maneuverable across different spaces and situations.
Skid steers have arms that can attach various tools to assist in many tasks. These uses include loading, lifting, moving, and digging. A skid steer comes with either two tracks or four wheels to ease moving on various terrains.
Each skid steer's front and rear axles are arranged to function simultaneously. However, you can independently operate the wheels or tracks on each opposite side of the equipment.
What's the Origin of the Name "Skid Steer?"
The skid steer wheels can't turn, given that they're fixed in a straight alignment. To turn, you'll have to increase speed on a single side of the machine and make the wheels on the opposite side drag. While the wheels on the side you're increasing speed on rotates, the skid loader will face the direction. The skidding technology these machines use while changing directions led to their name, skid steers.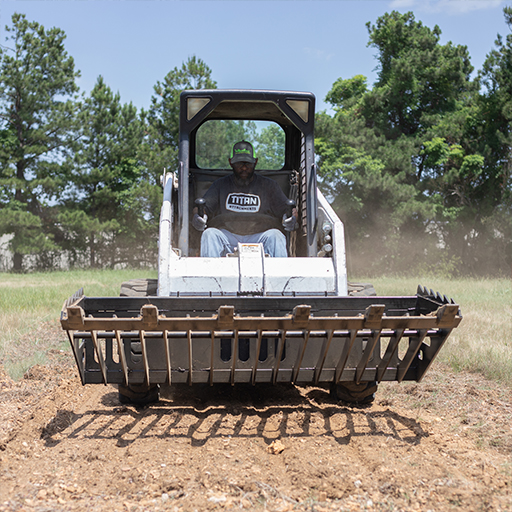 What's the Difference Between Skid Steers and BobCats?
You're not alone if you've found the two names confusing or used one to mean the other. But, what's the difference between the two terms? Or rather, is there a difference between bobcats and skid steers?
A skid steer, as explained above, is a machine used for various functions across different fields. However, a bobcat is a skid steer brand. It rose into popularity in the 1970s and continues to dominate the market as one of the largest brands worldwide.
Being among the first skid steer brands, Bobcat dominated the market and became a household name for these machines. But, the company manufactures several other compact machines, including excavators and track loaders.
Again, not all compact equipment comes from Bobcat. Companies like Caterpillar, CASE, Terex, and Komatsu are big names in the skid steer industry.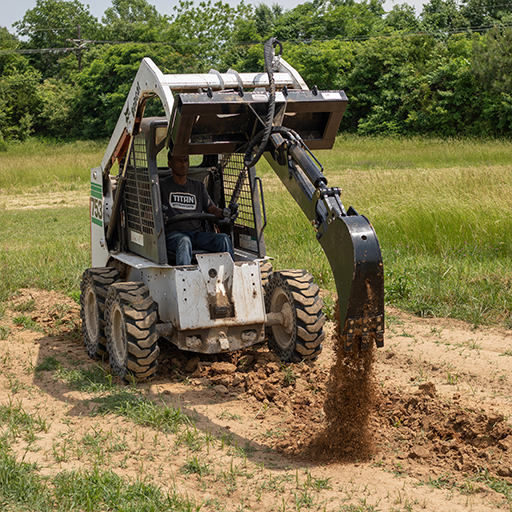 What Are the Uses of Skid Steers?
Skid steers help lift, dig, doze, and move materials across garden sections or at home. The compact size, maneuverability, and multi-purpose nature make them useful for almost any project.
The skid steer offers numerous attachment options to help you perform different tasks using a single machine. The bucket is the most common attachment for a skid steer. But, you can replace the bucket with other options, including a backhoe, tiller, or trump bucket, to perform your desired tasks. Here are some of the most common uses of a skid steer.
Snow Clearing
Skid steers can be very effective in plowing through and removing snow, especially if you attach them to the right tool. While a bucket can help in this function, a snow blower can be more effective for clearing heavy snow in extensive winter.
Additionally, the skid steer's compact size means you can use it in even relatively tight spaces.
Cultivation and Planting
Skid steers are sufficient tools to do your cultivation and planting tasks quicker. The Titan heavy-duty rotary tiller, rippers, and spike aerator are some attachments to ease your farm preparation and planting. All you need to do is pair them with the right attachments.
Landscaping
The opportunities for using a skid steer in landscaping are limitless, and the options for landscaping attachments many. Trench-digging attachments, augers, fence stretchers, and drum spike aerators make up for efficient tools when using a skid steer in your landscape.
The usability extends beyond the landscape and into your warehouse and garden. The pallet forks are some of the most common attachments for warehouses and farms. The 3-PT cultivators and landscape rakes are also some top-priority gardening attachments you'll need to have.
Mowing
You can pair the skid steer with attachments to trim off tall grasses and other vegetation to achieve your desired clean and tidy space. Skid steers can also be good tools for mowing. Several attachments come in handy for mowing operations.
Even better, skid steers don't turn. Thus, they offer more precision and have additional abilities than the standard riding mowers.
Moving Items and Clearing
Moving items is among the top list of skid steer uses. Its smooth buckets enable easy, fast, and efficient movement and clearance of different materials. You can also use it to carry debris from other parts of your farm.
Also, the grapples, available in different sizes and shapes, feature claws that help grip and grab materials. Constructors can use the skid steers to move large objects and debris from one section to the other side of the site. Likewise, hay farmers may need the equipment for different movement tasks.
Other Skid Steer Uses
While the uses mentioned above are the most common, the options as to what skid steers can do are almost limitless. The equipment offers efficiency and eases work in nearly every working scenario. Other uses of skid steer and its attachments include:
Excavation
Trenching and digging
Road sweeping
Building and construction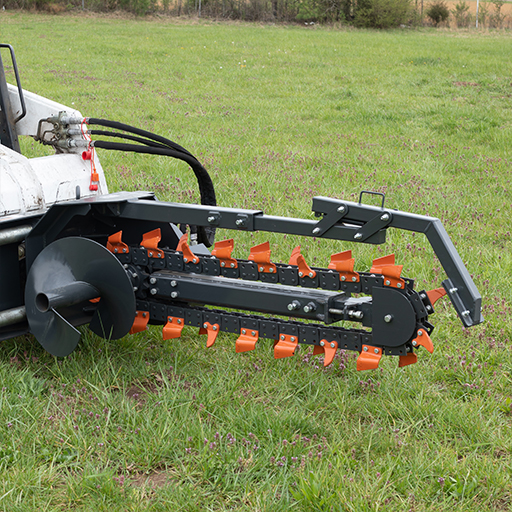 How Do You Get the Most Efficient Skid Steer for Your Job?
You need a skid steer because of the most prominent determinants of which type and size of equipment will be functional for your use. Also, consider your current and future projects.
The space in which you operate matters too. While larger models may be bigger for tight areas, the smaller options may have difficulty working in uneven terrains. Storage and maintenance costs are equally important considerations.
Learning about the various models and manufacturers available in the market is also essential. Every model has varying functionalities and features, which may qualify or disqualify some for your project. Here are some factors to consider.
The Size and Width of Skid Steer
Skid steers come in different sizes and widths. The size ranges include small, medium, and large frames. Each size has a rated operating capacity (ROC) and functions best in different projects and situations.
There are several factors to consider where the size and width of a skid steer are a concern. What tasks do you need the skid steer to do? For instance, will you be moving the equipment through gates, fences, or narrow passages? How much storage space do you have?
The small-frame skid steers are lighter and perfect for tighter space operations. Medium-frame is best when you need more horsepower and have extra working space. Large-frame skid steers offer massive horsepower and are heavier and more powerful. But they're bulkier than the previous two.
The Lift Type
Skid steers come with two different lifting options, vertical and radial lifts. The difference is in their working mechanisms. While machines with vertical lifts ascend the arms straight, their radial-lift counterparts arc the arms in curves.
The right lift type depends on the kind of operation you require. Radial lifts offer more forward reach and are ideal for unloading flatbed trucks or raising materials to given heights. On the other hand, vertical lifts go higher, making them ideal for lifting heavier materials to a higher elevation.
Wheeled or Tracked Skid Steers?
Skid steers come with track or wheel fittings, featuring varying abilities and functionalities. Wheels are the best option for even grounds, finished concrete, or rugged terrains. They're also less costly, fuel-efficient, durable, and easy to maintain. Also, wheeled skid steers offer more ease when cleaning the undercarriage.
Tracked skid steers are perfect for snowy, sandy, or muddy terrains. Their ability to disperse weight across all parts makes it easy to master these uneven slopes and landscapes. They also offer more operator comfort.
Joystick or Standard Controls?
Choosing between joystick and standard controls depends on your preference, budget, and availability. Most people find standard controls easier to operate, while the joystick is challenging to master.
Again, joysticks may be excellent and reliable as long as the tool keeps working. But, its maintenance and repairs are costly and challenging, mainly if you don't live close to a dealership.
Choosing the Ideal Attachment
Skid steer attachments may not be universal, but your heavy equipment can mount close to every extension available on the market. It's essential to know the limits and exceptions. Do you find this confusing? Consider talking to our professionals for guidance.
Skid Steers: Touching the Base
Finding the perfect skid steer requires a machine that meets your project's needs and working situations. Thus, shopping around, comparing, and sieving through devices is essential to land the best. Understanding the basic functionalities and features of different models and sizes is critical.
Sales professionals, manufacturers, and accessory experts also come in handy if you are unsure what works. We excel at supplying the best skid steer attachments. Our professionals can also offer the guidance you need to propel yourself further. Contact us to talk about your needs and seek advice.