Clear your driveway, farmyard, and any other paths this winter with high-quality snow removal equipment. Whether you're dealing with a few inches or feet of snowfall, the right attachments can transform your tractor or skid steer into a must-have accessory for removing snow. Review the top attachments today to find out how you can make the most of your machine.
Tractor vs. Skid Steer Snow Removal Attachments
Both tractors and skid steers are effective at removing snow from your property or as part of your commercial snow removal company. There are, however, a few key differences between attachments designed for tractors and ones designed for skid steers. Be sure you select the right attachment that safely connects to your machine's front arms or rear 3-point hitch.
Tractors can typically accommodate larger attachments. Many have more horsepower than skid steers. If you already have a tractor you use with farming or landscaping attachments, then it's a natural choice for picking up or blowing snow out of your driveway.
Skid steers are typically more compact and can cost less than tractors. Many come with tracks, which don't provide ideal traction in snowy conditions. Consider upgrading to snow tread-patterned tracks or using a wheeled skid steer for your snow removal vehicle.
Using a skid steer may be a better option if you have tight corners or small spaces to work around. These maneuverable machines are great for working around your farmyard or clearing walkways between your home and outbuildings.
In the end, the best piece of equipment for removing snow is usually the one you already own. You can select highly rated attachments to fit your tractor or skid steer, which is far more affordable than investing in a new machine for your winter projects.
How to Compare Snow Removal Accessories
There are three main types of snow removal attachments to consider for your tractor or skid steer: snowblower, dozer blade, and snow pusher. The type of attachment you choose depends on a number of factors:
Snowfall: A snowplow or snow pusher may be faster for light snowfall, but a snowblower may be a better option for heavy snowfall.
Snow density: Wet or icy snow can be considerably heavier than light, fluffy snow that's just fallen. This could build up and make it difficult for a plow or snow pusher to keep up without making multiple passes and risking getting stuck in deep drifts.
Budget: Tractor- or skid steer-mounted snow blowers can be up to twice the price of a pusher or blade, so consider your budget and how much you plan on using your attachment.
Size of project: Are you clearing a 50-foot driveway or a long lane through your property? Consider whether you need a durable attachment for heavy snow across a large area or if you need to quickly remove a light dusting across a long driveway.
Snow Blower
Prepare to clear large areas of snow with ease. Snowblowers are designed to pick up and throw snow clear away from your work area. Thanks to a heavy-duty steel ribbon auger, chain, sprocket drive, and worm gear discharge chute, these powerful attachments can help you take on the toughest winter projects.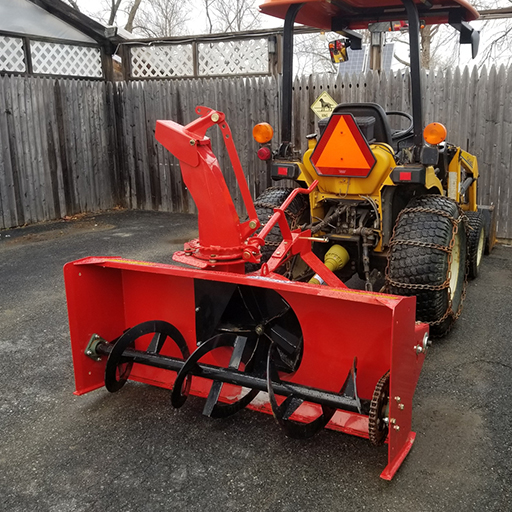 How to Connect a Snow Blower
Compare the working width, chute rotation, and connection type for your snowblower. A 3-point hitch blower can attach to the rear of most tractors. This design takes advantage of the powerful PTO for maximum snow-throwing capabilities.
A skid steer blower is mounted to the front of the machine and powered by the hydraulic system. If you have an SSQA or Quick-Tach system on your tractor, then you can also choose this type of blower to attach to the front arms of your tractor. Check the weight rating of your front loader to ensure your attachment is suited for your machine.
Available Features
High-quality snow blowers come with a wide working width to clear large amounts of snow. Look for one between 48 inches and 70 inches for your personal driveway or commercial area.
Snow blowers should also have rotating chutes. This allows you to direct the snow to avoid blowing it into a building or work area.
Benefits of a Snow Blower
While more of an investment than other attachments, a snowblower for your tractor or skid steer offers the following benefits:
Efficient snow removal: Compared to dozer blades and snow pushers, snow blowers are a highly efficient option for large amounts of snow. Blast through feet of snow without worrying about getting your equipment stuck.
Convenient control: Simply adjust the chute and watch as snow piles up neatly where you want it.
Wide working area: Reduce the time it takes to clear an area with a skid steer- or tractor-mounted blower with up to 70 inches of working width.
Snowplow
Also known as dozer blades, these sturdy blades allow you to push snow out of the way to clear a job site or driveway. Plows attach to the front of skid steers and tractors for quick-and-easy snow removal. While more limited in their ability to handle deep snowdrifts and wet snow, plows can still be competitive options in your snow removal arsenal.
What to Look for in a Snowplow
A snowplow needs to be durable, easy to attach, and adjustable. Just like other farm attachments for your skid steer or tractor, most snowplow dozer blades connect using the Quick Tach or SSQA connection type.
Be sure your machine is capable of connecting to your plow before purchasing it. Look for a plow with multiple angle position settings or hydraulic-powered rotation for ease of use. High-quality plows should also be made of durable materials and come with shocks to reduce damage to the blade. Consider the width and height of the blade as you compare options.
Advantages of a Snowplow
If you're ready to get to work and finish the job quickly, then a snowplow may be the best option for your machine. Here are some key advantages of a snowplow compared with a snow pusher or blower:
Affordable attachment: A dozer blade snowplow can save you a thousand or more compared with a snowblower attachment.
Easy adjustment: Choose a hydraulic-powered blade to conveniently change its angle without leaving the cab of your machine.
Fast snow removal: Drive fast and get the job done. Compared to a snowblower, a plow allows you to move small and medium amounts of snow in less time.
Durable scraping: Both snow pushers and blowers can't scrape up ice and heavy snow as easily as snowplows. These durable blades are great for scraping away that bottom layer for a clear, safe driveway or parking lot.
Two-directional plowing: A pusher and a snowblower can only operate in one direction. Plows can be angled to push or pull snow as you move back and forth across an area.
Snow Pusher
A heavy-duty snow pusher fits conveniently between snowblowers and snowplows. Designed for quickly removing large amounts of snow, these dynamic attachments are tailor-made for your driveway or parking lot project.
Just like landscaping and gardening attachments, these attachments are specialized for one particular project. Consider the amount of snow you're expecting and how often you need to plow before investing in this snow removal attachment.
Benefits of Choosing a Snow Pusher
You operate a snow pusher in similar ways as a snowplow. Unlike a plow, however, a pusher has reinforced sides to collect and push the snow with greater efficiency. Here are some key benefits of a pusher:
Heavy-duty bucket: A durable bucket withstands thick snow and debris without cracking or buckling.
Friction skid shoes: Look for replaceable skid shoes to prevent damaging your concrete or asphalt driveway while you plow.
Durable cutting edge: Explore options with a rubber cutting edge to promote safe, efficient snow removal.
Simple, efficient design: You can't always rely on a fully operational hydraulic system or PTO. When moving parts get stuck, break down, or wear out on other snow removal attachments, a snow pusher can keep on going. These simple attachments don't have any moving parts, so they're less likely to need maintenance or repair work.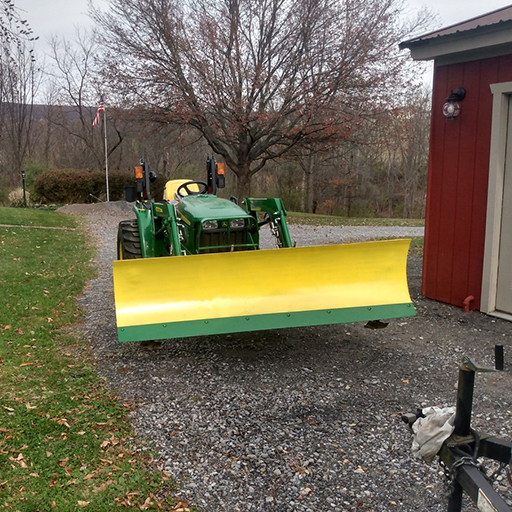 When to Use a Snow Pusher
Consider this attachment if you're looking for simple, straightforward snow removal. All you need to do is attach the pusher and get to work. In most conditions, the large bucket on a high-quality snow pusher is enough to contain the snow and prevent windrows. You won't have to worry about leaving snow behind or finding a safe place to blow snow near your work area.
Learn More About Tractor and Skid Steer Attachments
From small driveways to commercial parking lots, find the attachment you need to take on snow this winter. For more information on leading tractor and skid steer attachments, follow the Titan Attachments blog. Shop today for highly rated attachments to handle anything that comes your way this winter for efficient commercial or residential snow removal.